Onda attended the 25 th IIR International Congress of Refrigeration ICR2019, held in Montreal from August 25 th to 31 th, 2019.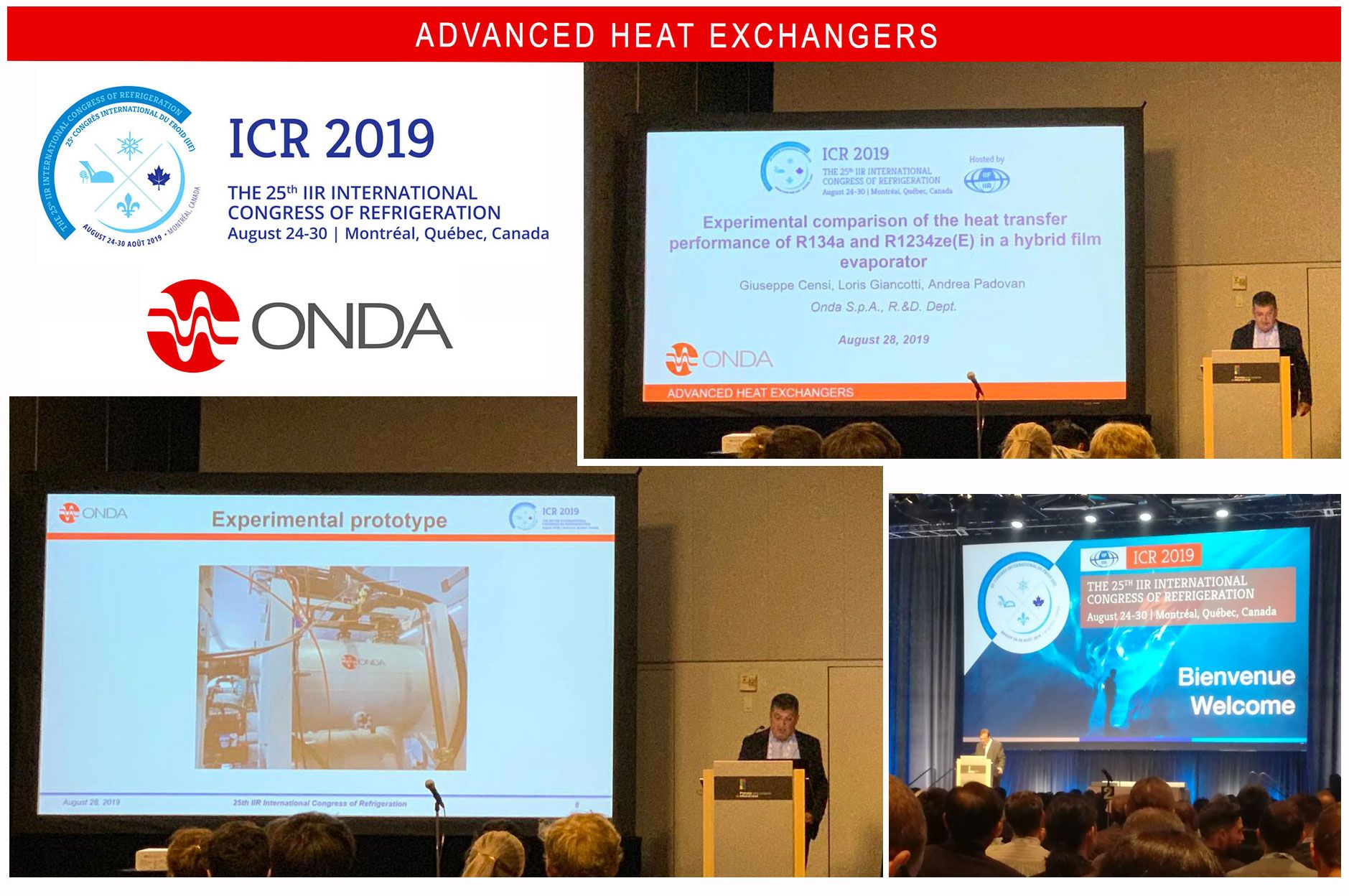 Onda ha partecipato al 25° Congresso Internazionale IIR sulla Refrigerazione ICR2019, tenutosi a Montreal dal 25 al 31 agosto 2019.
Onda ha voluto dare un contributo attivo alla ricerca contro il riscaldamento globale. È stato presentato un lavoro sperimentale e teorico sui refrigeranti a basso GWP che evaporano in nuovi scambiatori di calore a bassa carica ed alta efficienza.
Lo studio scientifico è stato interamente condotto all'interno dell'azienda dal team di Ricerca e Sviluppo, con il supporto del Laboratorio di Trasmissione di Calore Onda; in particolare, tratta di un confronto diretto tra le prestazioni di R134a e R1234ze(E) nel nuovo scambiatore Onda Hybrid Film Evaporator.
Il riferimento completo all'articolo presentato a ICR2019 è:
Giuseppe Censi, Loris Giancotti, Andrea Padovan, (2019) "Experimental comparison of the heat transfer performance of R134a and R1234ze(E) in a hybrid film evaporator". Proc. of the 25th IIR International Congress of Refrigeration, August 25-31, Montreal, Canada, pp. 2706-2713.
e può essere trovato nel documento "ICR2019 Book of Proceedings" nel sito ufficiale IIR/IIF (http://www.iifiir.org/) o nel sito del congresso (https://icr2019.org/).
Per chi è interessato a ricevere una copia gratuita dell'articolo, preghiamo di scrivere a gcensi@onda-it.com specificando nell'oggetto "richiesta articolo Onda ICR2019", riportando gentilmente il proprio nome e, se possibile, la propria affiliazione (se esiste).